Authentic, high-quality yoga classes based on profound knowledge of the human body.
Madhya Yoga ® Classes
As one of the longest standing yoga schools in Noosa Yoga Central offers a range of Instructor / Teacher Training Courses.
The instructor training is an opportunity for everyone interested in attaining knowledge of the theory and practice behind Madhya yoga.
The Instructor Self Maintenance (ISM) Courses (200, 350 and 500) are based on the number of training hours and offer progressing insights into the art of yoga, anatomy and physiology of the human body as well as practical and theoretical approaches to teaching Madhya yoga.
The ISM courses are designed to establish an authentic, well-informed approach of yoga to safely introduce students into their own personal practice or enhance their practices and work toward becoming a yoga teacher. We consider this to be a crucial aspect so that our students acquire a genuine understanding of the human body and the effects of yoga asanas in order to safeguard themselves and possibly future students and to attain and maintain optimum health and well-being.
Upon completion our students get a Certificate of Achievement.
Yoga Central is also supported by the insurance company Arthur J. Gallagher and provides further training to become a Backfree practitioner.
Private Classes
Private one on one classes and private group classes can be made via appointment to suit your schedule throughout the week and on weekends during school terms and school holidays.
In a private setting issues within the body that may stem from repetitive strain, past or underlying injuries can be addressed specifically and individually. The therapeutic approach of Madhya yoga can 1) assist in correcting structural and muscular imbalances within the body that can contribute to certain ailments and cause referred pain and 2) recalibrate the nervous system to enhance neurologic response, stability and energy levels.
Excellent results have been achieved in offering physical and mental benefits for clients such as general students, professional surfers and triathletes, personal trainers, yoga teachers, Pilates instructors, doctors, tradesmen and more.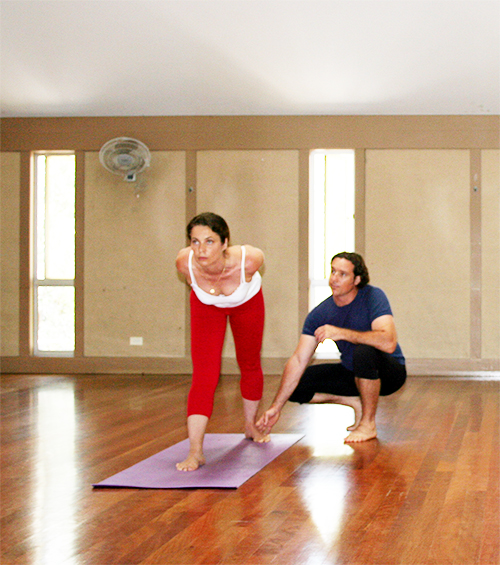 We offer different courses for your level of experience:
Beginners
For those of you who are new to yoga or who are looking for a gentle class the beginners course is for you. In the beginners yoga course we focus on establishing basic techniques of simple alignment and balance coming in and out of each asana (yoga pose). Beginners classes run for 1 hour 15 minutes.
Level 1
This course is for students who are familiar with yoga or who have completed the beginners' course. In the level 1 classes you will learn more about the upper body actions within the asana and begin to build strength to slowly work toward asanas of inversions.
Level 2
Level 2 classes are designed for students who have a solid foundation in yoga asanas. You will learn about different approaches to sequencing of asanas which will address the body and mind as a whole incorporating standing asana, inversions, forward bends, back bends and restorative yoga sequencing.
We offer different courses for your level of experience:
We commence classes in 2022, Term 1 by appointment only. 
Reserve your exclusive private group Madhya yoga or Trustfit fitness class –
max. 14 people

$ 150 + GST
Please find suggested available time slots in the table below.
Private one on one classes for Yoga, Trustfit and Backfree are available Monday – Sunday upon request.
Contact us if you have any questions.
Looking forward to seeing! 
*Classes are non-refundable but date and time can be changed within 24 hours notice*
Yoga
                                                                          

Trustfit

Backfree

Term 1, 2022 

Monday         9 am & 6 pm
Tuesday        9 am & 6 pm
Wednesday  9 am 
Thursday      9 am 
Friday            9 am & 5 pm

 

Term 1, 2022

Monday         9 am & 6 pm
Tuesday        9 am & 6 pm
Wednesday  9 am 
Thursday      9 am 
Friday            9 am & 5 pm

Term 1, 2022

Monday – Sunday

Term 2, 2022

Monday         9 am & 6 pm
Tuesday        9 am & 6 pm
Wednesday  9 am 
Thursday      9 am 
Friday            9 am & 5 pm

Term 2, 2022

Monday         9 am & 6 pm
Tuesday        9 am & 6 pm
Wednesday  9 am 
Thursday      9 am 
Friday            9 am & 5 pm

Term 2, 2022

Monday – Sunday

Term 3, 2022

Monday         9 am & 6 pm
Tuesday        9 am & 6 pm
Wednesday  9 am 
Thursday      9 am 
Friday            9 am & 5 pm

Term 3, 2022

Monday         9 am & 6 pm
Tuesday        9 am & 6 pm
Wednesday  9 am 
Thursday      9 am 
Friday            9 am & 5 pm

Term 3, 2022

Monday – Sunday

Term 4, 2022

Monday         9 am & 6 pm
Tuesday        9 am & 6 pm
Wednesday  9 am 
Thursday      9 am 
Friday            9 am & 5 pm

Term 4, 2022

Monday         9 am & 6 pm
Tuesday        9 am & 6 pm
Wednesday  9 am 
Thursday      9 am 
Friday            9 am & 5 pm

Term 4, 2022

Monday – Sunday
Term
Dates
Book
Term 1
Monday 31 January – Friday 01 April 2022
Classes: Yoga / Backfree / Trustfit
 Book course
Term 2
Monday 18 April –  Friday 24 June 2022
Classes: Yoga / Backfree / Trustfit
 Book course
Term 3
Monday 11 July –  Friday 16 September 2022
Classes: Yoga / Backfree / Trustfit
  Book course
Term 4
Monday 03 October –  Friday 09 December 2022
Classes: Yoga / Backfree / Trustfit
  Book course